Part of the mission of the Center for Global Studies is to partner with schools in Pennsylvania in order to develop ways to enhance global perspectives in K-12 classrooms. The CGS promotes global studies through:
Event Co-sponsorship
The CGS co-sponsors events that tie in with the Center's academic or outreach mission in Pennsylvania's schools and communities. Examples of events we have sponsored in the past include, but are not limited to, conferences, forums, panel discussions, speakers, and educational workshops. Examples of outreach events include the story time series World Stories Alive! held at Schlow Library and Turkish Night at a local charter school.
For information on funding opportunities and requirements, visit the CGS event co-sponsorship page.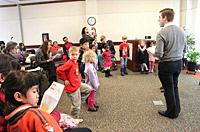 Classroom events
The CGS is willing to assist area teachers and administrators develop programming that promote global perspectives. Examples of such programming include a year-long speaker series at a local high school and intern-led after schools clubs covering topics such as French culture, world mythology, ancient civilizations, and world drama for K-8. For more information, contact us at cgsinfo@psu.edu.